1984

Author

George Orwell

Genre

Social criticism, science fiction, dystopia
Own and read. 326 pages.
First read (June 2011)
Edit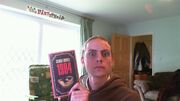 Got it for Christmas 2010, from Mark, along with Animal Farm.
Started reading it on June 10th 2011, after finishing Animal Farm actually. Animal Farm was quite short and I was in the mood for some more. It did turn out to be quite an elaboration of the same themes, indeed.
I finished it on June 18th having read it on buses to a school placement mostly. It was quite weird, I'm not sure how much I liked it. It was certainly readable, and interesting at points, but it didn't hit me like I thought it would. I suppose I'm glad to have read it, anyway.
Rating and awards
Edit
Number 8 on the BBC's Big Read
Number 4 on the 2006 World Book Day poll.
Reading Record
Edit
Previous book: George Orwell, Animal Farm
Next book: Greg Bear, Blood Music
Ad blocker interference detected!
Wikia is a free-to-use site that makes money from advertising. We have a modified experience for viewers using ad blockers

Wikia is not accessible if you've made further modifications. Remove the custom ad blocker rule(s) and the page will load as expected.