Misspent Youth

Author

Publication date

2002

Genre

Science fiction

Series

The Commonwealth

Followed by
Own and read. Set in the same universe as Hamilton's later The Commonwealth Saga.
I thought it supposedly recounted the development of the technology of "rejuvenation" and was keen to read it. Having said that, I also heard a lot of bad stuff about it, so was far from sure of a hit.
338 standard pages long, according to my analysis of one copy.
First read (January 2013)
Edit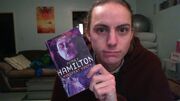 Paperback 2003 Macmillan edition. Bought it second-hand on the 24th of November 2012 for £1 at Memorabilia, a convention in Birmingham. 439 actual pages, approximately 45 blank pages, 32 lines per page, 52 characters per line[1], making it about 338 standard pages long.
Was browsing the books at Memorabilia and spotted this one which I recognised from the wiki. It was only £1 so I thought 'bargain!' and bought it. I was reading The Silmarillion at the time, though, so I didn't start it there and then. After reading Hyperion I took it from where it was staring at me on the bookshelf and started it on the 12th of January 2013.
Finished it fairly quickly, on the 17th of January in bed. Basically turned out to be the story of how a 70+ year old gets rejuvenated and starts sleeping with everyone, which isn't that cool. But it was still interesting enough to keep me reading.
1 (low)
Reading record
Edit
Previous book: Dan Simmons, Hyperion
Next book: Jane Austen, Pride and Prejudice
Ratings, awards, mentions and recommendations
Edit
Links and references
Edit
↑

1651 characters on page 113, according to Notepad++.
Ad blocker interference detected!
Wikia is a free-to-use site that makes money from advertising. We have a modified experience for viewers using ad blockers

Wikia is not accessible if you've made further modifications. Remove the custom ad blocker rule(s) and the page will load as expected.