Spells

Subtitle

Short novels and stories from 12 masters of fantasy.

Editors

Isaac Asimov, Martin H. Greenberg, and Charles G. Waugh.

Genre

Fantasy

Series

Isaac Asimov's Magical World of Fantasy

Preceded by

Cosmic Knights

Followed by

Giants
A collection of fantasy short stories, part of Isaac Asimov's Magical World of Fantasy. Published in 1985, I think (1988 in the UK, anyway).
First read (April 2012)
Edit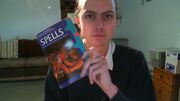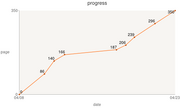 Paperback 1988 version, by the looks of it. 341 pages, ~5 blank pages, 41 lines per page, 9.9 words per line[1], 55.1 characters per line[2]. Implication is 136,752 words and 758,368 characters in the work (average 5.55 characters per word).
Picked it up for £2 in a book shop in Brecon while camping over Easter weekend 2012 with friends. Read the first two stories, and started the third, there.
Update 18/04/12: Read up to Satan and Sam Shay now. I'm a little bemused, many of the stories have been sort of odd or dull or lacking punch, but maybe that's what they're supposed to be like. It seems that 'back in the day' it was good sport to write short stories, at least the little blurbs and other things I've read about some of the stories seem to indicate they were all having a blast doing so. But for me it's so far been a bit uninspiring!
Finished it on the 23rd of April. Mostly mediocre, although it's been worth reading to get to know some different types of old fantasy. The only one I really enjoyed was The Miracle Workers.
Reading Record
Edit
Simultaneous reads: Charles Darwin, On The Origin of Species
Next read: Black Logician, Harry's Game
Ratings, awards, mentions and recommendations
Edit
Links and references
Edit
↑

Based on 407 words counted on page 317.

↑

Based on 1101 characters counted on first 20 lines of page 317.