The Dragonriders of Pern

Author

Genre

High fantasy/sci-fi

Series

Pern

Followed by
The first Pern trilogy, and recommended by Hayley. Published in three volumes:
Dragonflight (1968)
Dragonquest (1970)
The White Dragon (1978)
The first of which began as two novellas, merged and extended into a novel (and ultimately a series).
It should be noted that the second trilogy (The Harper Hall Trilogy) was written (and should probably be read) before The White Dragon.
First read (May 2012 - )
Edit
Dragonflight: Paperback Corgi 1970 edition, bought from Waterstones on May 9th. 337 pages, 35 lines per page, 21 blank pages, 8.2 words per line[1], implying ~90376 words in the book. About 44 characters per line[2], implying 489168 characters total, which at 350 5.5-character words per page gives us 254 standardised pages!
Dragonflight (May 2012)Edit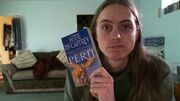 Bought Dragonflight at Waterstones on May 9th, along with A Game of Thrones, The Player of Games, and The Magician's Apprentice, as I was about to finish Consider Phlebas and wanted to move right on to something, and these leapt out at me from the shelves. Started reading it that day and finished it on the 15th, on the way to Leicester for a 40s costume for cousin Andrew's wedding.
Didn't like it that much, there were good parts to it but the writing was poor. Characters would have sudden outbursts and behave erratically as the author, it seemed to me, made unskilled attempts at changing the mood and making things more dramatic than they needed to be. There was a lot of cliché behaviour and I felt unsympathetic towards any of the characters (with the exception perhaps of the main bronze dragon, Mnementh - not sure why!).
There were a great deal of plot holes not accounted for, and I see no reason to call it a sci-fi book. There was no science. It may have been set on a space-colony, but it was fantasy.
1 (low)
Reading record
Edit
Previous book: Iain M. Banks, Consider Phlebas
Next book: Iain M. Banks, The Player of Games
Ratings, awards, mentions and recommendations
Edit
Links and references
Edit
↑

286 words on page 23.

↑

1548 characters on page 23.
Ad blocker interference detected!
Wikia is a free-to-use site that makes money from advertising. We have a modified experience for viewers using ad blockers

Wikia is not accessible if you've made further modifications. Remove the custom ad blocker rule(s) and the page will load as expected.